Back home after a week in northern Portugal. We had a great time, starting in Porto, after which we spent a couple of days in the beautiful Douro (think green) and Peneda-Gerês (think even more green) areas and came back to Porto again. About Porto: where to go if you're in town? Below are a couple of tips.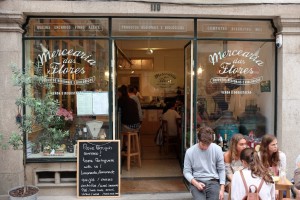 Eating/drinking
Mercearia das Flores came as a welcome surprise when walking on Rua das Flores after day of exploring Porto by bike (I'll come to that later). Lovely owner (at least I think the friendly curly woman was the owner of the place) and tasty regional and biological food and drinks. Just perfect for lunch or a late afternoon beer or wine!
Then, around the corner at Rua de Trás there is Miss'Opo, a guest house / café / bar / restaurant / shop / newsagent (yep, a whole lot of things) in one. A bit dark, but a nice & friendly place for having drinks or dinner.
Sleeping
Winner of the week was definitely Rosa et al Townhouse. I've told you about it before and you can find several photos of it on the blog. If you are a sucker for design and homemade food like I am, then this address is obligatory. I'm not kidding!
Art/architecture
If you like architecture (and concrete 😉 ) Casa da Musica should be on your list and so should Fundação de Serralves, Porto's contemporary art museum, which also has a nice garden to walk around in.
Sightseeing

The first tip is to go rent a bicycle and cycle all the way along the coast to the most northern part of Porto where you can eat the best fresh fish. You can also cross the Eiffel bridge and cycle around in Vila Nova de Gaia (the place for tasting port). You can cycle further west for beaches (which are said to be better than the ones in Porto).
The other tip is to book a tour at The Worst Tour. Listen to what their flyer has to say:
"
YES! these might very well be the worst tours in the world!! … or at least in Porto. 'The worst tours' is a low rated tours agency for anyone who really doesn't want to be a tourist while getting to know Porto, the coolest city in Portugal – tourism buses don't fit the best places, anyhow…

The kids of the recession present: the f*ck-it-all concept. Portugal, 2012. Austerity Killed the economy. Three out of work architects facing sudden economic destruction refuse leaving town and decide to open an unlikelly walking-tours-agency – Porto, big picture, good and bad: Architecture, History, Politics, Urbanism, Slow food, and Hearsay.

We'll show you the alleys, the abandoned buildings, the squares, the mean streets, the old markets, the cheap 'tascas' of spicy petiscos, the stories behind them all and have great discussions on very partial points of view.

We promise you'll have fun and maybe even learn something new about the city. On parle français. We speak English. We fake most southern european languages. We do not speak german. Fancy a walk?"
We thought it was pretty funny and booked a tour with architect/illustrator/passionate amateur-politician (of course on the left wing of the spectrum!) Margarida who told us about the political and economic situation in Porto and about how the community is responding to that, but also showed us interesting architecture, the apparently best ice cream shop in town (Gelataria Sincelo) (closed unfortunately so we couldn't test it. Damn!), the best place for cookies & coffee (Padario Ribeiro) and much more. So, if you're into alternative touring and like to support these out of work architects, check out their website and book yourself a Worst Tour! Disappointment guaranteed. 😉