… when new magazines come in and old ones go out.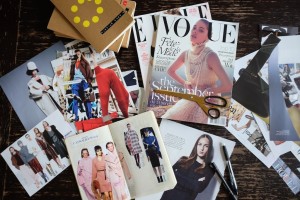 And yep, I admit, I'm that kind of nerd who – instead of throwing old magazines away or storing them nicely in order on shelves – cuts them and sticks them into notebooks. Oh, me and my notebooks… I have sooo many of them!! For collecting images or words on fashion, interior design, travel, psychology – you name it and I have it, collected in some notebook. Actually this blog is really nothing more than an online version of these things..
But about fashion.. (now that we are looking at images of it anyway 😉 ) I LOVE fashion because I can't help but fall for everything aesthetic (so including pretty things to wear) and because it enables to create (your own style in particular). It's a way of self-expression blablabla – I know, cliche, but TRUE! At the same time there is that buy-and-throw-away/replace mentality that often seems to go together with fashion too. Collections come and go so fast that I wonder how all those fashion designers can ever keep up! And, of course, how important is a piece of cloth compared to so many other, much more essential things in life?!
Anyhow, for me fashion is about having an eye for quality, detail, materials, silhouettes. Right now I'm very much into high waisted trousers/jeans and – perfect for work – tube skirts, preferably combined with a tucked-in (very important!) T-shirt, blouse or sweater. The oversized coat is still a favorite (winter and summer) and so are (wide) white blouses and T-shirts (for a masculine touch). To make sure my wardrobe lasts longer than a season or two, I try to buy only stuff that is of good quality, is relatively timeless (which does not apply always and does not mean I only go for basic as you've seen before) and goes well with the clothes I already have. That does not prevent me from throwing a hardly-worn dress or shirt on Ebay occasionally, but at least I'm not throwing things away then..
Well, let's see what those new magazines have to offer inspiration wise… Enjoy your September issues!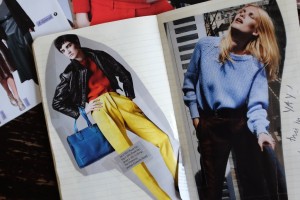 YAY! Sweater-in-trouser-style!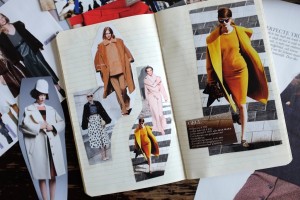 Statement coats!